Hot & lumpy filling –

BREITNER

filling machines
Specific porduct properties
So far, we have assumed – for the sake of simplicity – that the product is filled at room temperature and is also completely homogeneous.
But even here there are particularities to be considered.
The industrial process is no different from grandma's method: hot filling is sterile and ensures shelf life.
Some products, such as honey, are filled warm – they are then thinner and can thus be filled more quickly and cleanly.
Jam or certain sauces are filled hot (typically above 80°C) to reduce germ contamination and thus improve shelf life.
Because viscosity is highly temperature-dependent, it is crucial for the precise filling process that the product in the product container is kept at a very even and constant temperature and protected from cooling.
Our double-walled and heated product vessel, possibly with an agitator to distribute the supplied heat, ensures a constant temperature throughout the vessel.
Lumpy and sedimentary products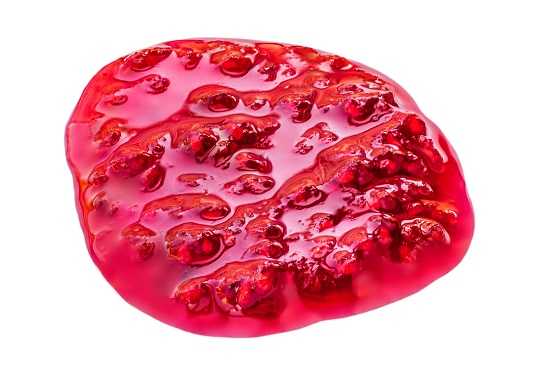 The small pieces of fruit in this high-quality raspberry jam are easily recognisable.
Jam or sauces, for example for fondue, present special challenges for the filling process: Small pieces of fruit, which make up a high-quality jam, or sauces, which easily break down into their fat- and water-containing components, must be kept moving in the product vessel until the last moment before filling.
An agitator, mounted at the top or bottom of the product vessel, ensures uniform mixing.
Which speed and which shape of agitator blade is appropriate? Your specialists and ours jointly determine this technical design. Here, too, we have decades of experience and can therefore advise you perfectly.
A piston filling machine is suitable for lumpy mixtures.
Are you interested in our filling systems or our packaging machine service?
Then contact us …
Our qualified team will be happy to answer your questions or concerns.